Osko Production
Video Production Company
Osko Production
The client
Osko Production has been a leader for nearly 20 years in the field of corporate video production. With a customer portfolio containing some of the most reputable companies in Canada, the client wanted to strengthen its online presence and rejuvenate its visual identity through visual elements, social presence and search engine optimization.
The client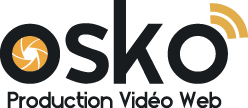 Visual identity
To give the company the image it deserved, we had to design a comprehensive online visibility strategy and a brand identity. The logo and various graphical elements were designed to expresses vibrancy and movement, all while recognizing video production, at the centre of the company's activities.
Web site redesign
Visual identity
Web site redesign
Video animation, camera crews and equipment, Osko Production's primary activity needed to be obvious from the very first moment on the Web site. Our challenge for this new Web site was highlighting the contemporary and living universe of Osko Production, so we needed to design an identity for the brand and implement a global Internet visibility strategy.
Vitality, colours and movements – various graphical elements were designed to showcase the company's main activity: video production.
SEO, content and community management
Web site redesign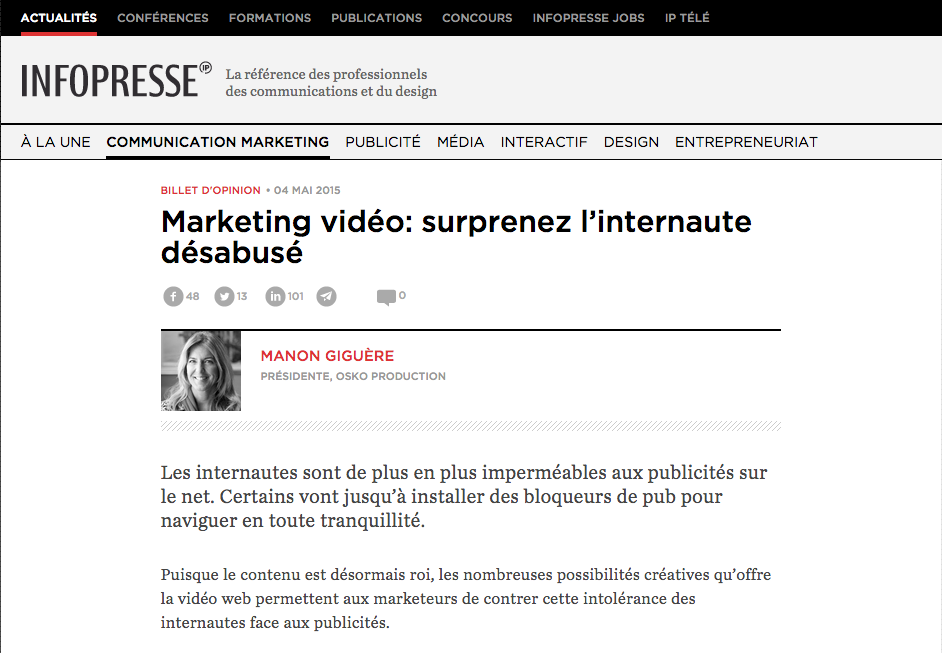 SEO, content and community management
A brand's influence doesn't limit itself to a good-looking website! Social networks, blogs, Quebec online media appearances, SEO, SEM… Ongoing efforts on these elements allow the brand and its representative to get all the visibility it deserves, making it a growing player in the video production industry in Quebec.
Obviously, referencing is one of the keys elements of today's successful brands. To achieve this, several elements need to be simultaneously leveraged and our SEO and SEM specialists are well versed in this field, in order to put our customers on the centre stage, where they rightfully belong!
Let's start your project