THE RESULTS OF A STUDY CONDUCTED BY THE WEBSITE WORKOPOLIS HAS CREATED QUITE A COMMOTION ON SOCIAL NETWORKS AND MAKE A LOT OF NOISE AMONG COMMUNITY MANAGERS
After a list of jobs that did not exist ten years ago, the study of Workopolis focused on those who will disappear in the next decade.
Among the occupations expected to decline that are mentioned, some are certainly not surprising (as clerk at the video store or dispatcher for taxis), but the mention of social media experts raised more than one eyebrows.
According to the study, the arrival on the labor market of generations who grew up in an environment where social networks are ubiquitous, make expert in social media obsolete.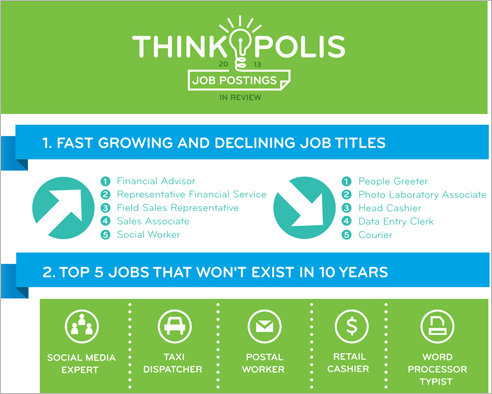 REAL TRENDS BUT INCORRECT CONCLUSIONS?
Even if young or less young people are active on Twitter and Facebook, it is precipited to think that companies could go without the expertise of a professionnal in their activities.
Having thousands of "followers" and hundreds of " likes " is far from a guarantee of quality and does not guarantee to reach your business objectves.
Before even judging the relevance of this argument, let's define what "social media expert" is.
Aspiring to be an expert implies years of practice in a specific area .
The most popular social networks being only a decade of existence , and even less in terms of market potential, it is a little premature to claim expertise in this field as young as volatile .
Also having a presence on social media is not done beside the communication strategy. It is a technological component increasingly dominant , whether for marketing or for customer service.
Yes, social media can generate revenue and retain customers . But they do so only as a facet of a solid game plan in terms of communication and marketing.
This component does not tend to disappear. Quite the contrary. It is not us who say this but the same Workopolis study that in the same breath also says that "people still like to buy from people."
Accordingly, it is not the job related to social media who are in danger.
It is rather the use of this misleading term which will tend to disappear replace by strategists, managers, communicators who make use of social media tools with intelligence, accuracy and moderation.
These jobs will evolve and follow different trends often driven by technologies or algorythms.
The awarness of tomorrow's entrepreneur about the reality of social media on a daily basis will accentuate the role of social media in their communications.
Feeling better community managers?
We would like to hear what you think about it.