QUEBEC DENTAL HYGIENISTS ASSOCIATION
The OHDQ's (Quebec dental hygienists association) goal is to protect the public by monitoring the dental hygiene profession.
In April 2019, the OHDQ wanted to use dental hygiene month to create an online campaign to push for the modernization of care techniques in Quebec by offering more independence to dental hygiene professionals.
CONCEPTUALIZATION AND CREATION OF CONTENT
To promote greater independence for dental hygienists, the strategic focus for the campaign was to highlight the differences between Quebec and the other Canadian provinces, where they have more independence.
To do this Wink Strategies managed the creation of different content: visuals, computer-animated video-clips but also promotional videos, following the steps below:
– Conceptualization and creation of a synopsis,
– Operational planning and filming with a production team,
– Post-production of the clips and creation of promotional tools for the campaign…
CREATION OF A CAMPAIGN MINI-SITE
CONCEPTUALIZATION AND CREATION OF CONTENT
CREATION OF A CAMPAIGN MINI-SITE
To centralize the campaign's content and create a space dedicated to advocating for more independence for dental hygienists, Wink Strategies designed and developed a mini-site for the campaign, which was also integrated into the OHDQ main site.
In addition to texts explaining the issues and the various content for the campaign (visuals, promo clips, computer-animated videos etc.), the mini-site included numerous testimonials from members of the association and their president.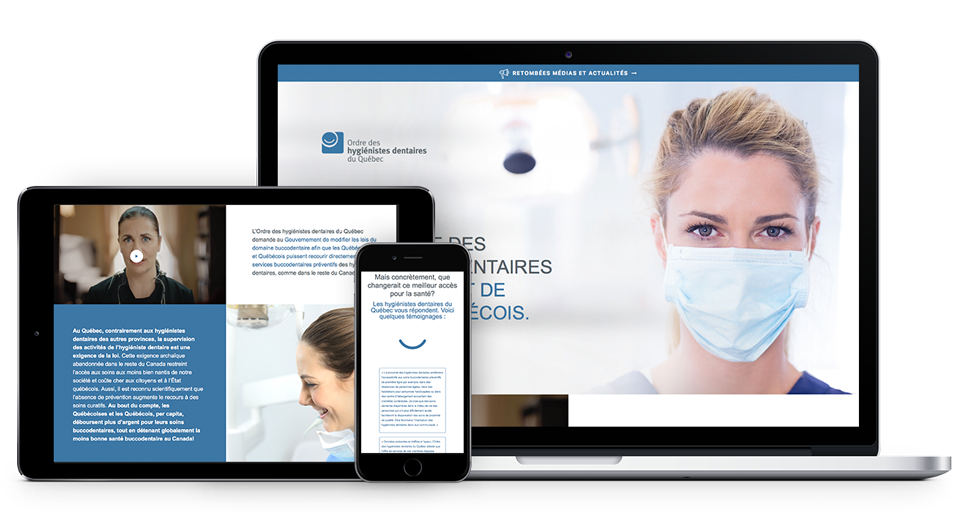 BROADCASTING THE CAMPAIGN
CREATION OF A CAMPAIGN MINI-SITE
BROADCASTING THE CAMPAIGN
For more than a month, campaign and mini-site content were widely shared on social media, through community management and advertising, especially Facebook and YouTube.
Along with the regional tour carried out in parallel by the President of the Association and the public relations initiatives, the web campaign helped to put the spotlight on the importance of hygienists in the oral health of Quebecers, and show political reasons for access to healthcare reforms.