THERATECHNOLOGIES
Present in the United States, Europe and Canada, Theratechnologies is a biopharmaceutical company offering specialized solutions for people with incurable illnesses, especially people infected with HIV.
For their entry on the NASDAQ, Theratechnologies contacted Wink Strategies to created new communication tools (website, and a presentation for investors).
WEB DESIGN
The goal of the redesign of Theratechnologies website was to organize information in a clear and intuitive way, especially information aimed at investors while ensuring a more modern and ergonomic design.
To gain the best results for the client Wink Strategies:
– First of all defined the websites structure, then created wireframes for the webpages in order to create user journeys adapted to their targeted audience
– Secondly, based on the company's current brand image created a sleek and modern web design.  
– Finally, developed the website using WordPress, and integrated the content and made the website live. Wink Strategies also provided training to Theratechnologies on how to use the site.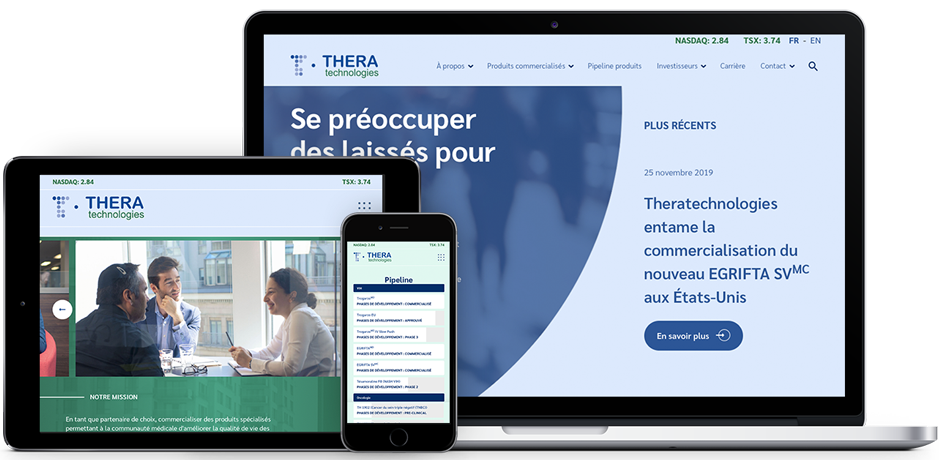 GRAPHIC DESIGN
Based on the graphic style guide created for the new website, Wink Strategies also redesigned the presentation for Theratechnologies's investors (and future investors).
To showcase the figures and the main reasons to invest clearly, Wink Strategies opted for a professional, using the colour contrast between white and the company's colours, blue and green.