"Du soutien à portée de main" Campaign
Many services exist to help caregivers serving seniors, these women and men who take care of their loved ones with decreasing independence. Unfortunately, these little-known resources are not always used by those who need it.
In 2018, l'Appui reached out once again to Wink Strategies to design a national communication campaign to increase the access to dedicated services for caregivers serving seniors and to facilitate their daily lives.
The client
STRATEGIC PLANNING AND IDEATION
To increase access to resources for caregivers serving seniors, all while respecting the lines of communication established in the 2016-2018 plan, the agency has devised various advertising concepts. After a consultation phase including focus groups with caregivers, the chosen concept consisted of a caregiver-senior dyad testimonial to discuss their common experience accessing services.
The idea to use an ambassador to convey the campaign's message also emerged to help spread the message as effectively as possible. Once the "Du soutien à portée de main" concept was created, Wink Strategies took over the entire strategic and operational planning of the campaign.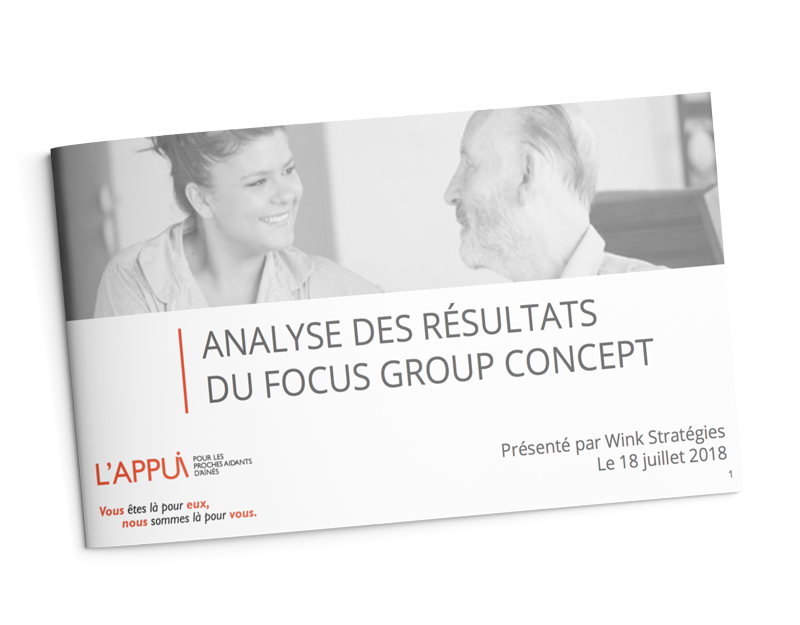 CONTENT PRODUCTION
STRATEGIC PLANNING AND IDEATION
CONTENT PRODUCTION
Wink Strategies took charge of the entire production process of the campaign's content:
– Casting of the caregiver-senior dyads,
– Hiring the campaign ambassador, radio and television host, Rebecca Makonnen,
– Shooting short videos in collaboration with a production team,
– Short video post-production and creation of the campaign's promotional materials…
MEDIA CAMPAIGN
CONTENT PRODUCTION
MEDIA CAMPAIGN
The "Du soutien à portée de main" campaign launched on October 4, 2018, with an interview with Rebecca Makonnen on the Salut, Bonjour! morning show. The campaign ran on different communication channels:
– On television, with planning and buying media spots on Quebec's largest networks,
– On the Web, with planning and buying online media advertising on YouTube, on targeted sites and on Facebook,
– Through public relations, with references both in the press and on television shows, especially with ambassador Rebecca Makonnen,
– With printed material, in the press, on urban property and on city buses.
Let's start your project