JEFF DE BRUGES CANADA
Jeff de Bruges is a master chocolatier who set themselves apart by combining French creativity and Belgian expertise. A European leader in the chocolatier sector for more than 30 years, the brand has over 500 stores across the globe of which 40 are international locations. 
Wink Strategies helped Jeff de Bruges to open in Canada, working together on content strategy, social networks, and newsletters, as well as helping franchises with public relations and communication.
CONTENT STRATEGY AND COMMUNITY MANAGEMENT
As well as daily management of Facebook and Instagram accounts, one of the goals was to grow the community and increase interactions. We put in place sponsored campaigns to showcase the brand's products and services. Our main aim was to adapt the tone of the communication to the Quebec market while maintaining the brand identity.
– Creation of a specific strategy for each social media platform;
– Community management and sponsored campaigns on Facebook, Instagram and LinkedIn;
–  Content creation (images, animations, videos);
– Creation and integration of monthly newsletters, to promote the brand's new products and services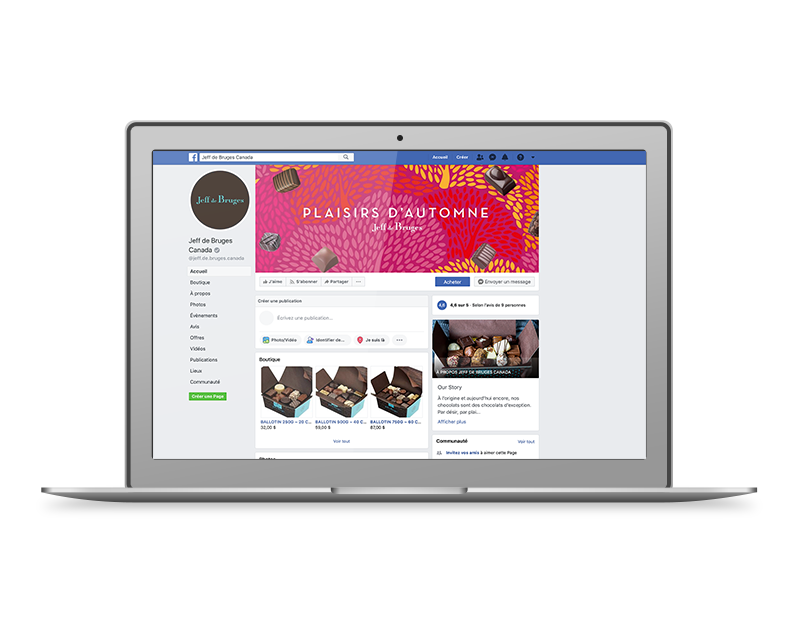 CONTENT STRATEGY AND COMMUNITY MANAGEMENT
PUBLIC RELATIONS
In order to increase brand awareness and aid the franchises with their communication, Jeff de Bruges needed a public relations strategy adapted to the Canadian market.
Wink Stratégies created a plan that involved partnerships with micro-influencers with a proven community of followers on social networks as well as sponsoring business and cultural events, in the Montreal area, this involved:
– Sourcing and negotiating sponsorship deals with targeted partners;
– Creation of an influencer marketing strategy for the brand's social media.