L'APPUI POUR LES PROCHES AIDANTS - COVID-19 COMMUNICATION
Hit hard by the Covid-19 health crisis, seniors and their caregivers had an increased need for support and information during this period.
L'Appui contacted Wink Strategies to produce two national communication campaigns during the Covid-19 crisis: "We are not giving up" and "We are here for you".
COMMUNICATION CONSULTING
On March 14, isolation measures for seniors over the age of 70 were announced in Quebec to protect them from the Covid-19 pandemic.
This situation could prove not only difficult for isolated elderly people but also difficult for caregivers, it was necessary for the l'Appui to send a message of support, to inform and reassure them during the period.
From the first announcements, Wink Strategies helped l'Appui to find practical and informative messages for caregivers, presented in an understanding and reassuring tone. Subsequently, two national communication campaigns linked to the crisis were created and implemented.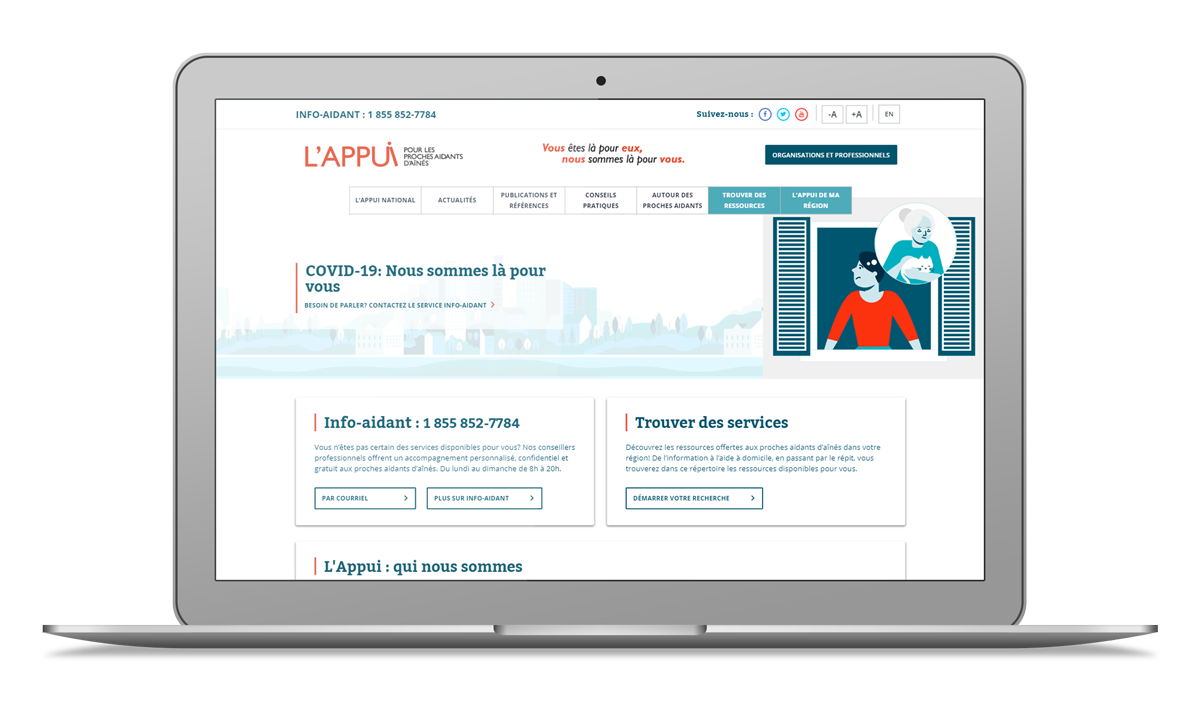 CREATION AND BROADCAST OF ANNOUNCEMENTS
CREATION AND BROADCAST OF ANNOUNCEMENTS
On April 7, 2020, for Canadian Caregivers Day, L'Appui launched the press and digital campaign "We're not giving up" along with other national organizations working with caregivers in order to show their support and encouragement.
In early May, the "We are here for you" campaign, launched to promote the caregiver support line. The campaign was adapted to the particular situation: a computer-animated video coupled with a voice message recorded at home by the ambassador, Marie-Claude Barrette.
Both campaigns were widely broadcast through social media, online and print media advertisements, television spots and media publications.
CREATION AND BROADCAST OF ANNOUNCEMENTS
PUBLIC RELATIONS
To ensure the effective spread of the support messages of during the period of the health crisis, the Wink Strategies developed and implemented a public relations strategy to ensure presence in the media and inform the population as widely as possible to the challenges faced by caregivers :
– Press releases
– Contact with media
– Organizing interviews…
In total L'Appui and its communication campaign was mentioned more than 100 times in the media during the period (TV, radio, print media and digital media…).